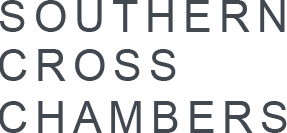 When Experience Counts
Specialist Auckland Barristers providing legal expertise for individuals, organisations and businesses

When Experience Counts
Specialist Auckland Barristers providing legal expertise for individuals, organisations and businesses
Southern Cross Chambers currently consist of 17 barristers.
All Barristers at Southern Cross Chambers act independently, but have the advantages of:
Collective expertise covering a broad range of legal practice areas.
Excellent research resources, including an extensive library.
Access to spacious, contemporary offices, board and meeting rooms
A convenient location in Auckland's CBD, close to the High Court, District Court including: Employment, Family, Environment court and various tribunals.
ASSOCIATED BARRISTERS' DETAILS
Office Location:
Southern Cross Chambers
Level 12 & Level 13, Southern Cross Building
59-67 High Street
Auckland, 1010
Post:
PO Box 5444
Wellesley Street
Auckland, 1141