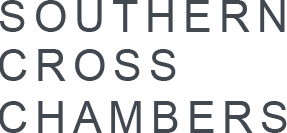 When Experience Counts
Specialist Auckland Barristers providing legal expertise for individuals, organisations and businesses

WELCOME TO SOUTHERN CROSS CHAMBERS
Established in 1977, Southern Cross Chambers is one of the largest sets of Chambers in Auckland providing legal expertise for individuals and businesses. Southern Cross Chambers currently consists of 17 lawyers.
All Barristers at Southern Cross Chambers act independently, but have the advantages of:
Collective expertise covering a broad range of legal practice areas.
Excellent research resources, including an extensive library.
Access to spacious, contemporary offices, board and meeting rooms
A convenient location in Auckland's CBD, close to the High Court, District Court, Employment Court and various tribunals.
For more information please visit the Barristers and Practice Areas pages.
LEGAL ASSISTANCE
The Members of Southern Cross Chambers provide barristerial services and legal advice across a broad range of areas.