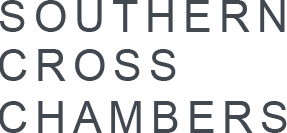 When Experience Counts
Specialist Auckland Barristers providing legal expertise for individuals, organisations and businesses

When Experience Counts
Specialist Auckland Barristers providing legal expertise for individuals, organisations and businesses
ABOUT SOUTHERN CROSS CHAMBERS
Southern Cross Chambers is one of the largest sets of Chambers in Auckland. It is located on the 12th and 13th floors of the Southern Cross Building on the corner of Victoria and High Streets, Auckland CBD.
The Chambers currently has 17 members which includes associated barristers and two junior barristers holding the Acolyte positions available in the Chambers on a two year tenure. The Acolyte scheme is operated by the Chambers to provide support and mentoring for junior barristers new to the Independent Bar.
The practice areas of barristers in Southern Cross Chambers are diverse reflecting a broad range of legal skills and depth of experience . Please see Practice Areas and individual Barristers pages for more information.
HISTORY OF SOUTHERN CROSS CHAMBERS
The Chambers was founded in 1977 by David Baragawanath and Robert Fisher. Over the years the Chambers has grown and developed. Several members over the years have gone on to obtain judicial office, including:
Sian Elias QC (Chief Justice of New Zealand)
David Baragwanath QC (Court of Appeal Judge)
Robert Fisher QC (High Court Judge)
Robert Chambers QC (Court of Appeal Judge)
Peter Salmon QC (High Court Judge)
Robert Smellie QC (High Court Judge)
John Priestley QC (High Court Judge)
Ailsa Duffy QC (High Court Judge)
Graeme Colgan (Chief Judge of the Employment Court)
Tomas Kennedy-Grant QC (Associate Judge High Court)
Mary Beth Sharpe (District Court Judge)
Arthur Tompkins (District Court Judge)
Office Location:
Southern Cross Chambers
Level 12 & Level 13, Southern Cross Building
59-67 High Street
Auckland, 1010
Post:
PO Box 5444
Wellesley Street
Auckland, 1141