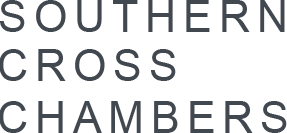 Auckland Barristers: Lawyers Providing Legal Expertise for Individuals and Businesses
When Experience Counts

The information contained on this website is provided for informational purposes only and free of charge.  It has been complied by individuals who are participants of Chambers and the views expressed in any part of this website are the views or opinions only of the author(s) identified in relation to such material.  They are not necessarily the views or opinions of all participants in Chambers.
Information contained on the website is not intended to and does not comprise legal advice to be relied upon by any person in relation to any case or matter.  The participants in Chambers assume no responsibility whatsoever for accuracy or correctness of the information or any consequences of you relying on it.   You are encouraged to obtain legal advice from a lawyer direct in relation to any legal issue that you may have.
Office Location:
Southern Cross Chambers
Level 13, Southern Cross Building
59-67 High Street
Corner Victoria & High Streets
Auckland CBD
Post:
PO Box 5444
Wellesley Street
Auckland 1141